Hung Young Brit is a bareback porn studio run by George Mason in the United Kingdom. George is extremely passionate about barebacking and proudly admits to being a raw fucker and cum whore on camera and he has plenty of mates who love bareback sex just as much as he does. When you listen to George talking excitedly throughout his videos, you will quickly appreciate his honesty and devotion towards bareback sex and he's not afraid to use his real name at his porn site either. Before you think this article is about George, it actually isn't, as he admitted in one of his videos that he uses PrEP and doesn't want to become HIV-positive.
You might have heard about an incident a couple of years back where George and his boyfriend were arrested for filming a threesome on the London Underground train somewhere between Leicester Square and London Waterloo stations on the Northern Line. The story made a number of news headlines, but George never let that experience stop him, he's just more careful about where he fucks and films now. George was found guilty of 'outraging public decency' in Westminster Magistrates Court in January 2019, along with his boyfriend, but the cameraman and third person in the video could not be identified and he was not included in the charges.
On November 24, 2018, George posted an update on Twitter about his latest scene and included the social media hashtags #bareback, #biohazard, #poz and #toxic along with a biohazard symbol along with the description (which I have lightly edited for ease of reading) which said "6 lads wanking in a circle shoot 9 loads in a water pistol and afterwards George runs next door and bends Jay over and shoots the cum into his arse and mouth and all over a stunning guy's 9-inch cock that he uses to fuck Jay bareback and hard".
This scene features Jay Carrington as the bottom who gets multiple loads of cum from the water pistol shot inside his hole and Spaniard JS Toro (Jonathan is his first name) is the top who pushes the cum deep inside his hole using his impressive uncut cock. JS Toro also has a biohazard tattoo emblazoned just under his bellybutton, so he makes it perfectly clear to others that he's HIV-positive. George's social media post piqued people's curiosity, with many wondering who in the scene was HIV-positive. Jay revealed in a comment on this thread on December 1, 2018 that he is HIV-positive and undetectable. JS Toro is also believed to be HIV-positive, but it's unknown whether he is detectable, so the use of the word "toxic" might have only referred to him being HIV-positive and not actually detectable.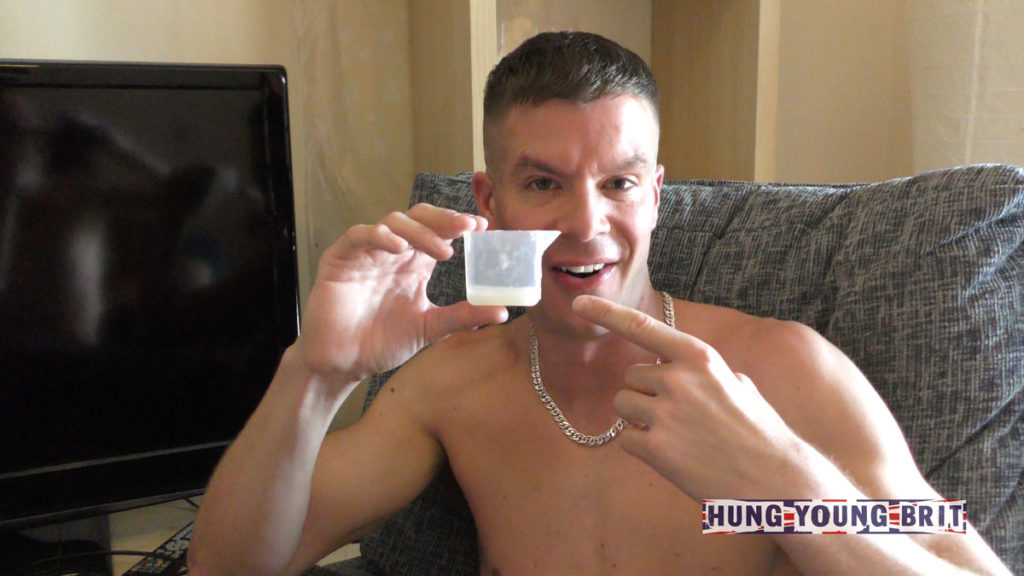 Numerous people really liked this scene, with comments such as "hot as hell", "that's hot as", "what a horny as fuck vid", "so friggin' hot", "best group vid I see so far", "fuck yer man", "this is the hottest shit ever" and "damn that's hot". Jay revealed in his Twitter comment on December 1, 2018 "Let's not openly speculate on the status of these boys… it's something they may not feel comfortable with being talked about like idle gossip. Maybe it's not so minor to them" then he followed this up a few minutes later with "Yes I am and undetectable also. Please refrain from asking the rest of my fellow actors." A few days later Jay added "Thanks for the apologies and yes people are bound to ask but that doesn't mean they have the right to ask" in response to the people asking about his HIV status.
When a video is marketed in such a way with HIV-positive hashtags and imagery, along with no condoms and a porn performer who has never publicly stated his HIV status, people are going to be very curious about who is HIV-positive. George's tweet appears to have placed Jay in an awkward position, because he felt pressured to answer the question when someone asked "who is poz", but when Jay responded, he reminded people to respect the other guys in the scene by not asking them about their status. There is still stigma when it comes to HIV and some performers don't want to discuss it publicly, as it can affect their careers. It's also important to remember that both HIV- and HIV+ performers can work together in scenes due to medications that reduce the viral load and protect against HIV transmission.
I have enjoyed watching Jay's scenes at Hung Young Brit, as he's handsome and emanates an appealing sexual energy. Jay has mostly worked for French gay porn studio Crunchboy and British gay porn studio Hung Young Brit, but what you might not know about him is that he is also a director for Treasure Island Media in the United Kingdom. Jay is talented onscreen and also offscreen through his collaborations with Paul Stag, with the two of them responsible for managing Treasure Island Media's shoots in Europe and the United Kingdom. You can read more about Jay in an interview he did with GMFA in 2019, because not only does he have good looks, he's also very intelligent and seems like a really nice guy.
It's important to note that this article does not infer that Jay contracted HIV through bug chasing, this article simple points out that Jay publicly announced via social media that he is HIV+ and undetectable. Jay also shared a Tweet in 2019 that revealed he would love to see a cure for HIV, so it seems he would prefer to be HIV- and not HIV+. Curious Chaser discusses a variety of topics including HIV-positivity in general, which is why this article has been published, as it's relevant and creates awareness around the discussion of HIV. Jay revealed a part of himself via Twitter when he disclosed his HIV status, but at the same time, he also wanted to shield other bareback performers from being subjected to public scrutiny like he was when the studio marketed the video in such a way.
Twitter Sources:
---
Featured Photo: George Mason / Hung Young Brit.
Article ID: CC032
Version Control: 1.0 – March 16, 2022: Original article published.