Watermark Online tackled the issue of bug chasing head on in Issue 20.24 November 21 – December 5, 2013, with striking artwork on the front cover showing a very happy cartoon character of a young man holding a "bug chaser membership card" alongside the headline "It's my party… and I'll die if I want to. A peek inside the bug chasing culture." Other headlines splashed across the front page include "Florida's new HIV infections on the rise", "Dallas Buyers Club tackles real-life HIV drama" and a "World AIDS Day event schedule". The timing of the bug chasing article intentionally coincided with World AIDS Day on December 1.
The editorial on page 7 of the magazine introduces you to the person who wrote the article and more information about HIV in general. The article was written by Watermark Editor (at the time) Steve Blanchard who started his editorial with "If this issue of Watermark makes you uncomfortable, I'm glad. The cover story makes me incredibly uneasy — and I wrote it!" To research this article, Steve aimed to interview a number of guys to obtain sources for his article. Steve admitted to being misleading when he posted ads on two social networking/dating websites by asking if "any studs wanted to be injected by a PozTop" and his inbox was apparently flooded as a result. One of the websites was reportedly geared specifically to those seeking unsafe sex and the other one was dedicated to spreading HIV infections.
Steve admitted in his article that he hoped his story would disturb readers, because he wanted to make them angry and revealed this was his goal from the moment he put up the profiles on the dating sites in September. It's always important to understand which angle an article is coming from and what the intention is, and we can immediately ascertain this from the editorial and also the wording and artwork chosen for the cover by referring to HIV as a death sentence, which it no longer is based on advances in medication now currently available (and was available at the time the article was originally published), which the editor did acknowledge, shortly before referring to his article as an "educational experiment".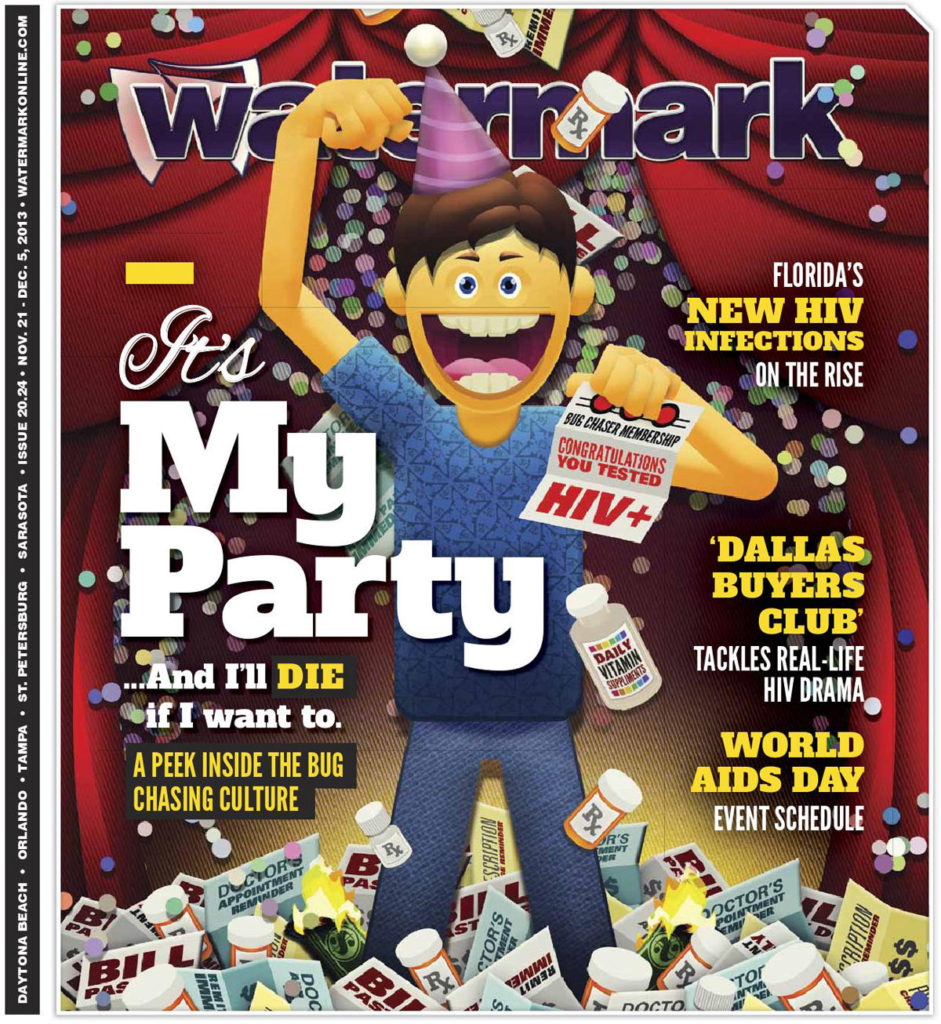 Once you scroll past 14 pages of advertising and a further 10 pages of articles, you will reach the "Chasing the Bug" article on page 32 of the PDF document (pages 8 to 11 are missing for an unknown reason), with the subheading "With a goal of achieving a positive status, young men proudly practice risky behaviours." You can begin to understand more about the goal of the article when you study the artwork on the main page, with one standout piece stating in capital letters "Mental Health Counselling – Appointment Reminder", which is extremely judgemental and demonstrates poor journalism in my opinion, as articles should be written from a neutrality standpoint so they are unbiased and impartial. There's also some points made regarding financing care being about $50,000 a year, a lifetime of bills averaging $600,000, estimated costs ranging between $2,000 to $5,000 a month, some of the side effects, multiple doctor visits and daily medication.
The article begins on page 33 of the PDF document (and continues on pages 42 and 43 of the PDF document). Brandon (not his real name) is the first young man interviewed. He is 23-years old and hopes to achieve a very important goal on the upcoming Saturday night, revealing that he is finally going to get HIV, as he has plans to attend a conversion party at a private residence in Hillsborough County, where he will bottom for multiple partners who are already HIV-positive. Brandon explains more to Steve about his reasoning at a Tampa coffee shop and admits he will gladly embrace the title of bug chaser.
"I found several gift-givers willing to give me the bug. I'm excited. It's going to be a really hot night and it will accomplish something in the process. I know a ton of poz people. I'm a good-looking guy and I'm in great shape. I love sex and I know it's just a matter of time before I get it anyway. It's like ripping off a band-aid. Why wait to find out in a year that you have it, when you can just get it, get on the drugs and go on with life? To me, this is the responsible thing to do. I'll know I have it and I'll be able to treat it." – Brandon.
The second young man interviewed in the article is Travis (not his real name) who reveals he became infected with HIV at age 29. Travis explains that when he decided to become HIV-positive, he looked to websites trying to find a person to infect him. He joined several social websites that advertised bareback sex or conversion themes, but he found most of the guys he was interested in were too far away. So he realised that if he wanted to get infected locally, the best way would be to visit a bath house. Travis believes he contracted HIV during several encounters at an unidentified bath house in Central Florida, after he was there for nearly eight hours, where he approached men for sex by offering his "raw hole". Travis reveals that three weeks after his night at the bath house, he tested positive for HIV and he is thankful to the unknown gift giver who passed along the infection.
"I found out I was HIV-positive on April 5, 2012 and that's a date I plan to celebrate every year. I'm on the right drugs, I see my doctor regularly and I always disclose my HIV status before I have sex with someone. For me, getting infected was a way for me to start the next phase in my life. I knew it would happen eventually, so now I know my status, I have a drug plan and I'm very healthy. It's better than finding out later that I have HIV and starting treatment too late. I know some bug chasers who compare getting infected with getting pregnant. I wanted to get it so I could go on with life. It has nothing to do with a relationship." – Travis.
Dio Diaz is a prevention specialist from Metro Wellness and Community Centers who explains he has seen a lot of bug chasing over his years with the HIV community and it's usually the younger community that have boyfriends and want to get infected because they don't want to worry about getting infected anymore. That's why they willingly contract the virus, with some admitting that it helps make their relationship easier if one of the partner's is already HIV-positive. Dio added that a lot of people choose to become infected at bath houses.
"A lot of people who love to go to bath houses do it in the areas of Orlando, Tampa Bay and Fort Lauderdale. It's a place to hookup to have random sex with random men, so that boosts the infection rates. It's really a triangle for easy sex. If you're into bareback sex or are bug chasing, these are great places, because it's an environment that's non-judgemental. There is someone there willing to do whatever you want and you're also not forced into a situation you don't want. If you don't want a barrier, there's someone there who is willing to not use one either. That's a large part of the infection numbers." – Dio Diaz.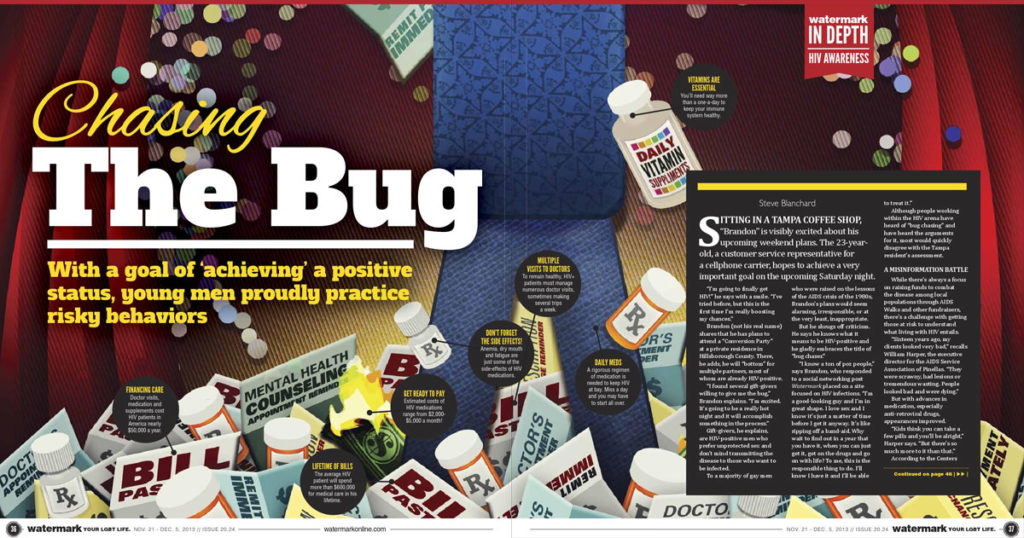 The article included insight from Dr Jay Flicker, a psychologist from the Hope and Help of Central Florida who makes a distinction about there being a difference between a bug chaser who is actively seeking the virus and an individual who is complacent about contracting the virus. Dr Flicker explains that bug chasing is all about intent. "The intent of a bug chaser is to fulfil a need, whether it's to find a sense of belonging to a group or if it's what used to be called a disability queen. It was about getting those social services that just, really, aren't around as much as they used to be."
Abby Nicholson, who is the HIV Education and Prevention Coordinator at Metro Wellness and Community Centers shares an experience she had when she tested someone who came in and didn't identity himself as a person who was looking to get infected. When his test result came back as positive, he said "finally, it's done now", which she revealed caught her off guard, then he told her that he tried to get infected for a long time and he had a lot of HIV-positive partners. He revealed to Abby that he was both relieved and excited by the result.
Dr William Harper, the executive director for the AIDS Service Association of Pinellas explained that before antiretroviral medication became available to improve the overall health of those who were HIV-positive, many people saw infections as a financial windfall, as there was a lot of money in the HIV arena, including money for housing, legal services, dental services and many found it attractive to become HIV-positive so they could access those services. Being HIV-positive even helped with rental assistance and housing vouchers, which meant that this was a financial windfall for someone who may not have had the resources, meaning some have found becoming infected as an attractive option.
The article did contain some helpful contributions from specialists in the HIV field and also included information about various strains and some of the effects HIV medications can have on people, as side-effects and treatments can vary from person to person, which makes the article worthwhile reading. There is also an interesting article written by Ken Kundis in the same issue titled "Preached to the converted", which is also an interesting read, plus there's also a page of HIV/AIDS statistics, and even though these figures are now outdated, it still shows some very clear information relevant at the time.
Further Reading:
---
Featured Photo: Watermark Media
Article ID: CC030
Version Control: 1.0 – March 9, 2022: Original article published.