When you think about people who have publicly shared their love for bug chasing, there's one face that might be stored some place in your mind and if you were to put a name to this face, there's a good chance the name will be Kenboy. That's because Kenboy featured in "The Gift" in 2003, which is a documentary produced by independent filmmaker Louise Hogarth. Two bug chasers featured prominently throughout this documentary and Kenboy was one of them. If you were to take a glimpse into the life of Kenboy, you will quickly appreciate the passion he had toward bareback sex. Barebacking played a significant role in Kenboy's life and it was his love for unprotected sex that led him to become a bug chaser, an admission he makes in the documentary, because becoming HIV-positive eliminated the worry and allowed him to enjoy barebacking without fear.
After moving from Illinois to the San Fernando Valley region of Los Angeles County on January 7, 1999, Kenboy began his bareback and bug chasing journey, taking up residence in what was known as the LA Sex House in Northridge, California, where he was soon joined by a guy named Steve, who later become Kenboy's partner. The LA Sex House held 99% bareback sex parties and according to the now defunct LA Sex House website, with an estimated two and a half thousand visitors attending parties in the one and a half years the sex house was operational. At its peak, the house held eight parties a month, but it was eventually shut down after two years when neighbours found out what was happening there and complained, so the landlord took action and moved the guys on.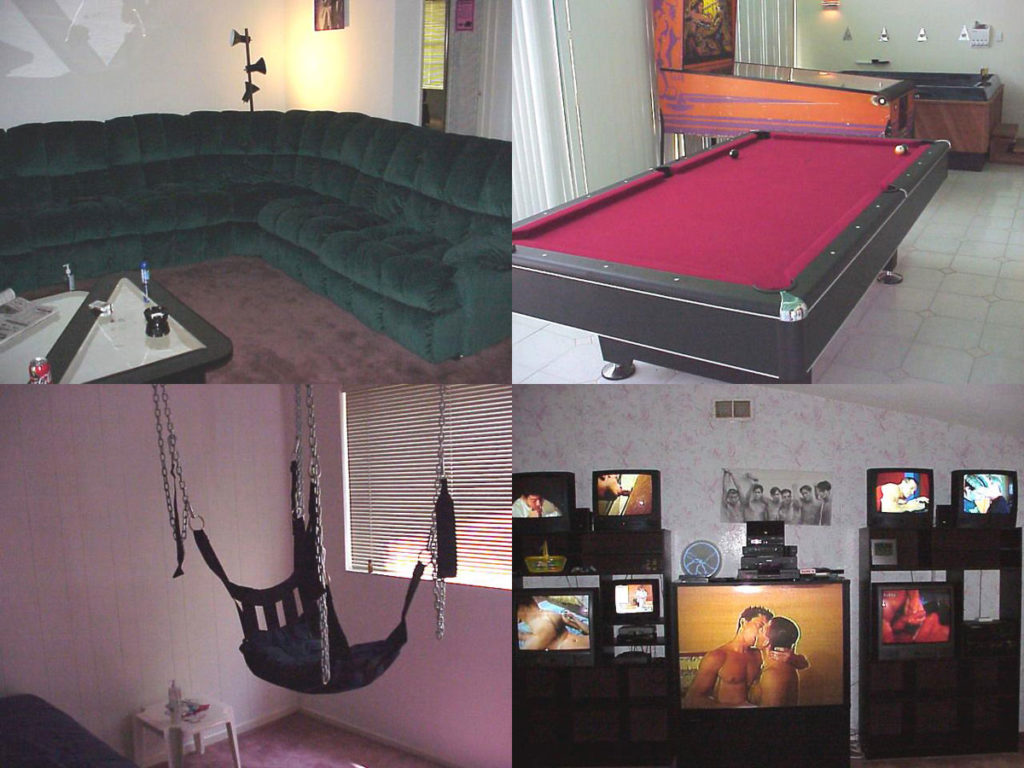 During his interview, Kenboy revealed there was signage at the front door of the house advising anyone attending should assume that everyone at the party is HIV-positive. Interestingly enough, Kenboy himself was HIV-negative when he moved into the sex house and to his disappointment, he remained negative for two months after moving there. He seemed frustrated with the situation, because his life strongly revolved around bareback sex and at the time, PrEP was not available and the effectiveness of HIV medication wasn't as good as it is today, so barebacking was extremely risky. To alleviate the stress that was causing anxiety for Kenboy, he decided to have a conversion party to make contracting HIV a fun process and put himself more in control of the timing of contracting the virus.
Kenboy figured it was inevitable he would have become HIV-positive, because he loved bareback sex, but disliked condoms, so he chose to make the conversion process a celebration by having a bug chasing party. From the documentary, it appears that Kenboy's primary reason for 'chasing the bug' was to become HIV-positive so he no longer had to worry about contracting HIV from his sexual encounters. This is interesting, because some bug chasers enjoy the thrill of having risky bareback sex, not knowing whether their next encounter will be the one that converts them, but Kenboy wanted it to happen as quickly as possible to alleviate the anxiety it was causing him.
Thought the documentary, Kenboy admitted that most of the HIV-positive people he knew were not taking medication, so their viral loads would have been detectable and he chose to skip taking medication also. Kenboy's lack of health insurance around the time of being first infected prevented him from being able to afford HIV medication, which was estimated to be $12,000 a year at the time, but admitted he wasn't going to take medication anyway. Kenboy seemed surprised that he was having plenty of bareback sex with HIV-positive guys, but couldn't understand why he wasn't becoming HIV-positive himself. This may have left him feeling alone and different to those around him in his circle of bareback sex partners, which could have been another reason why he felt strongly about becoming infected with the virus.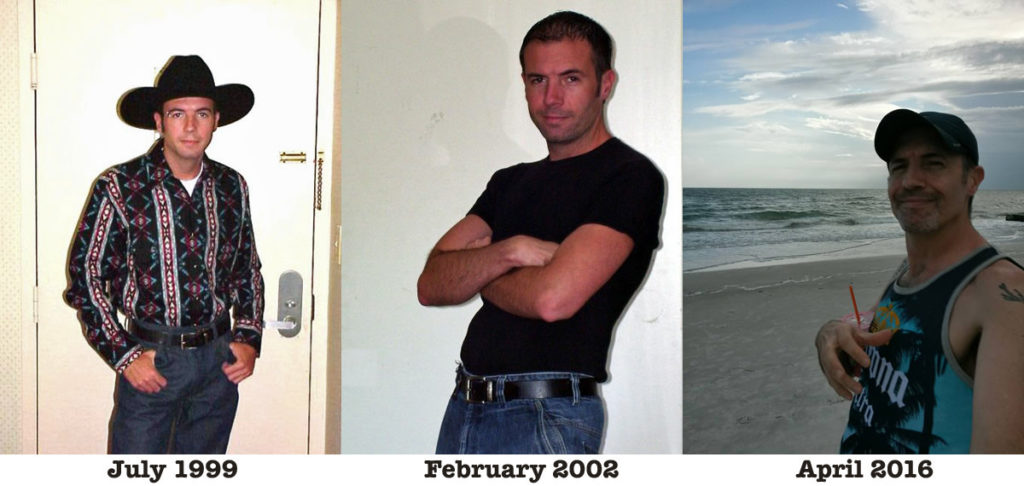 In early 2000 Kenboy posted an advertisement of the Bareback Jack website inviting 10 to 15 hot HIV-positive guys to attend his conversion party. Kenboy's reason for wanting to contract HIV was in his own words "if you're going to bareback, you're going to get it anyway, so you might as well have fun" and he had a simple rule, which was that only HIV-positive people were allowed to attend his conversion party. Kenboy revealed he wanted the guys to give him their poz loads and leave, hopefully giving him "the gift" so he no longer had to worry about contracting the virus. This reaffirms the fact that at the time, contracting HIV was worrisome for many barebackers, so some chose to have conversion parties to move beyond the infection process and alleviate the anxiety.
When Kenboy was being interviewed, he expressed his dislike towards condoms and confidently declared he's a bug chaser who is not afraid of AIDS. Kenboy also revealed that most of his friends were HIV-positive and he doesn't know any of them who were taking HIV medication, so he may have figured that becoming HIV-positive wasn't a big deal based on those around him. Further during an interview in the documentary, Kenboy proudly shares the news that he was diagnosed with HIV in March 2000 at age 26 and he felt a sense of relief to be HIV-positive, saying he could finally breathe again. This reaffirms the fact that Kenboy's conversion party was a success, with the at least one of the participants giving Kenboy the gift he desired.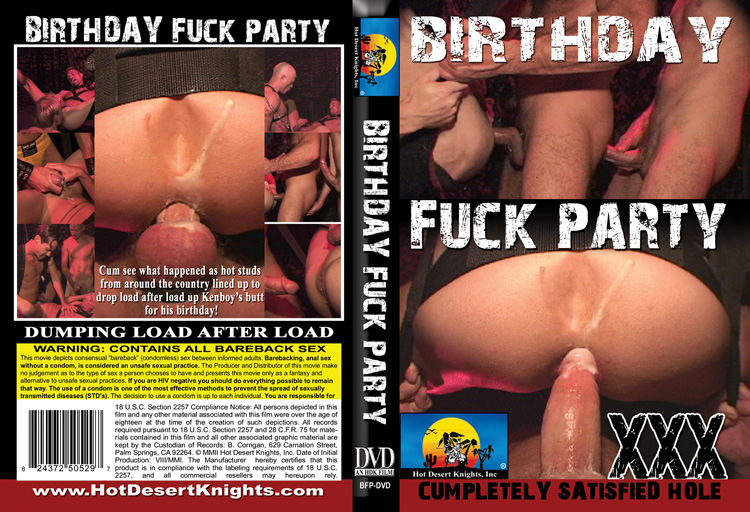 Tuesday August 7, 1973 was the day Kenboy was born and after being diagnosed as being HIV-positive twenty-six years later, in 2001 he decided to film a bareback sex video with Hot Desert Knights Productions to celebrate his upcoming birthday. A segment from "The Gift" documentary gives viewers a glimpse into the party planning, with Bill Gardner from Hot Desert Knights explaining the layout of the room where the bareback sex party was to be held. The centrepiece was a sling Kenboy would be using, with plenty of bareback sex and bodily fluids being exchanged between the guys. On Saturday, August 4, 2001, about 100 guys attended Kenboy's bareback sex party in Palm Springs, with some of the action filmed and later released on video by Hot Desert Knights under the title "Birthday Fuck Party".
Kenboy filmed a handful of bareback sex scenes for Hot Desert Knights Productions and at the time these videos were filmed, Bill Gardner from HDK acknowledged that everyone in the films was HIV-positive. These films include Boys Club I [2000], Boys Club II: Island House Adventure [2000], Birthday Fuck Party [2001] and Those Fucking Memories [2001]. In additional to studio work, Kenboy tried his hand at making his own bareback porn videos and released three titles under the 'BeachBum Video Productions' studio. LA Sex House: Movie 1 [2000], LA Sex House Movie 2: The Pool Party [2000] and Bareback Studs: Los Angeles Escorts [2001]. It's interesting to note that the first LA Sex House movie was filmed on Saturday, March 18, 2000, which is the same month Kenboy received his positive diagnosis and the second movie was filmed on Saturday, June 4, 2000.

Bareback sex was a massive part of Kenboy's world, so in 2001 Kenboy and his partner Steve decided to create a bareback hookup website called "Bareback City", which was devoted to connecting guys from all over the world who enjoyed having bareback sex with likeminded guys. Steve handled the technical aspects of the website and Kenboy contributed to the creative elements. The website had hookup profiles, a bulletin board, a chat section and there was even a bug chasing section. In 2002 Bareback City shut down and in 2003 "Ultimate Bareback" became the new destination the guys created, which was only short lived and could no longer be maintained, as Kenboy revealed that he was experiencing some health problems. Other projects included the "Bareback Video Store", where various bareback titles were sold and "Raw Threads", which was a clothing line designed for barebackers, with the options to buy a Bareback City 2002 t-shirt or tank top or a biohazard symbol t-shirt or tank top, which reinforced Kenboy's passion for positivity.

Kenboy's real name is Kenneth and in his personal life, he often shortened his name to Ken. When it came to filming porn, he used the name Kenboy and for his websites used the name Kenny. Kenboy's favourite quote was "If you can't say something nice, don't say nothing at all. – Thumper". Kenboy spent four years living in California, arriving HIV-negative and leaving HIV-positive. On April 4, 2003, Kenboy moved permanently to Florida, as this is where his family was located at the time. Kenboy had a few different jobs, and from 2006 he ran his own business as a real estate videographer, filming virtual tours of properties that were for sale. It seems Kenboy lived a quieter life in Florida after moving from California, but on August 22, 2017, Kenboy passed away seemingly unexpectedly at age 44. What is clear is that during his life, Kenboy knew what he wanted and he wasn't afraid of making things happen, but his online presence and reputation seemed to make him retreat from public circles and live a quieter life during his later years.
In Memory of Kenboy – August 7, 1973 to August 22, 2017 (aged 44). RIP.
Kenboy Timeline (reconstructed via Facebook data):
Born: Catlin, Illinois 7 August 1973
Moved: Tampa Florida on 29 November 1991
Moved: Champaign, Illinois on 29 July 1994
Moved: Northridge California on 7 January 1999
Converted: March 2000 (aged 26)
Moved: North Hills California on 17 August 2001
Moved: Sun City Florida 4 April 2003
Died: Tampa, Florida on August 22, 2017 (aged 44)
Personal Note: I never had the opportunity to personally meet or speak to Kenboy and that's a shame, as he seems like a really nice guy and he did a lot for the bareback and poz community, so it would have been nice to thank him. It seems as though Kenboy did distance himself from some of his earlier bareback projects later in life and for this reason, or he just chose to live a quieter life, so I have chosen not to publish Kenboy's full name or his Facebook profile, as it's still active and his friends and family may still visit for memories, so I wouldn't want anyone to post something on there that might upset his family or friends.
Side Note: I have tried capturing as much information from the internet archive as I could gather to bring this article to life, but I wasn't able to capture some of the pages from Bareback City or Ultimate Bareback, as the Wayback Machine Internet Archive can only archive static pages and the pages at these website were dynamic, as data was stored in a database and pulled when certain queries were made. Some of the graphics at Kenboy's other sites such as Raw Threads and LA Sex house were not fully available either, so I have tried to gather a selection of photos to help put this life profile of Kenboy together.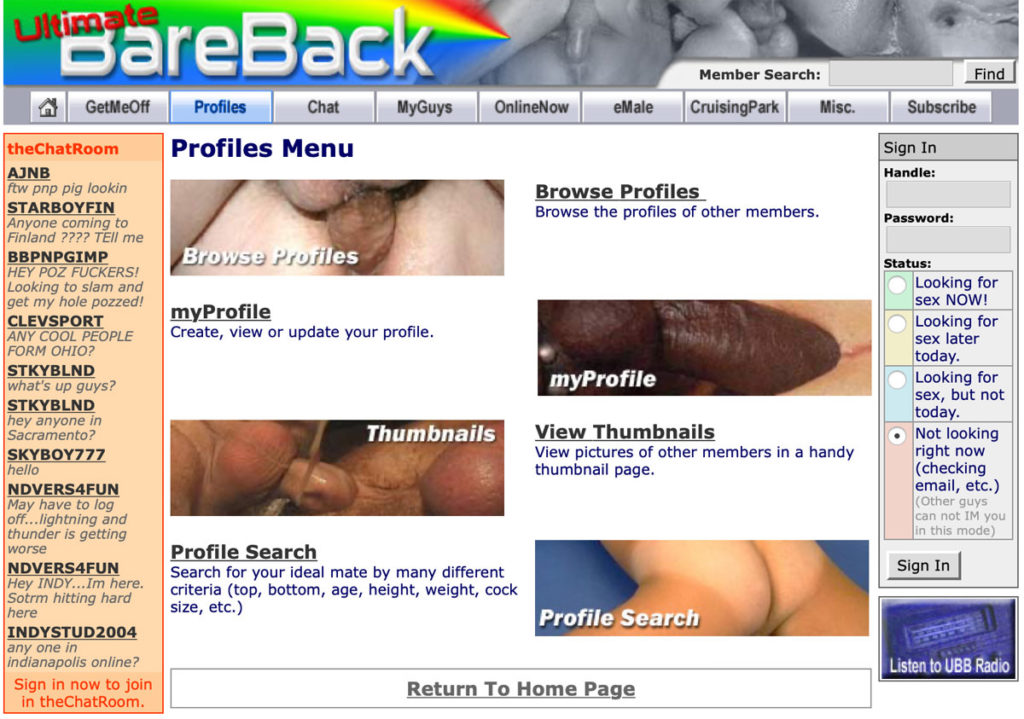 ---
Featured Photo: Kenboy / Facebook.
Article ID: CC009
Version Control: 1.0 – September 28, 2021: Original article published.