Load Enterprises released a double bareback porn feature in 2008 called London Cum Pigs and if you're a fan of unscripted natural sex, make sure you check out the two videos in this series. London Cum Pigs 1 was directed by Adam Bailey, who also directed British Bareback Vacation in 2007, which involved several models contracting HIV on set, which you can read more about in this article and London Cum Pigs 2 was directed by Allen Smythie, which is a pseudonym used by film directors who want to disown a project.
In my opinion, the second film in the London Cum Pigs series is the better one and I'm thinking the lack of an identifying director could be due to the fact that the men in the movie were simply having sex and did not need any direction at all, making direction unnecessary. This style of filming tends to make movies more enjoyable to watch, because it adds a natural approach to the action, which leads to the sex feeling more realistic, so you can better connect with what you're seeing, because it feels like the sex you experience in your personal life.
I want to highlight that this article is not assuming that any, or even all of the models who appeared in the London Cum Pigs series were HIV-positive at the time the movie was filmed, although a number of the models have since publicly stated that they are HIV-positive. It's important for us to respect the privacy of anyone who is HIV-positive, but has not publicly revealed their status, as a person's HIV status is personal and some people may have reasons for not being public about this. There are two men featured in London Cum Pigs who have biohazard tattoos, which often represents HIV and the movies were filmed without the use of condoms, so you might draw some conclusions about HIV status, but at the same time, this article makes no assumptions as to the HIV status of the participants.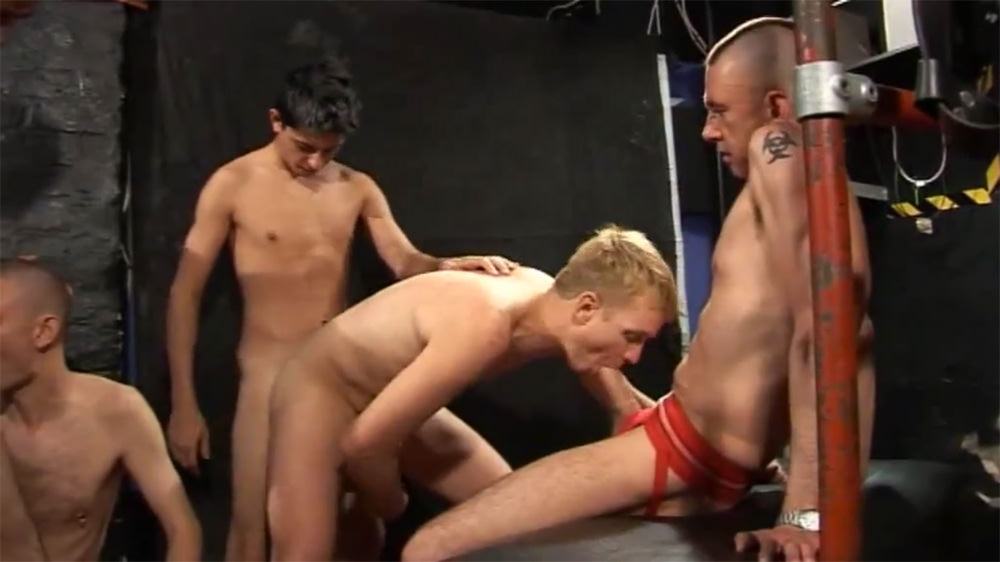 London Cum Pigs was filmed at a real sex club called Play Pit, which sadly closed its doors in 2012, with the establishment previously being described as a club inspired by San Francisco's famous sex clubs, including Mack Folsom Prison and Blow Buddies, which have also both since closed, with Play Pit being regarded as a sleaze pit where no fantasy was too wild. The club had several themed nights and also created a safe place for HIV-positive guys to meet, socialise and cruise on the first and third Monday of each month from 8pm to 1am through the creation of a members club called Play Pit + Plus.
The creation of Play Pit + Plus gave members a cruising space where HIV status disclosure was not an issue. Play Pit members could also become a member of Play Pit + Plus if they were HIV-positive and wanted to attend events at Play Pit + Plus, which involved requesting a free membership (add-on to the standard Play Pit membership), where the only cost was paying an entrance fee of £8. Members were able to bring their own alcohol (which could be kept cool at the bar), or they could purchase a selection of soft drinks (soda), or tea and coffee refreshments at the club and all facilities of the Play Pit were available on Play Pit + Plus nights.
The provision of a space where HIV-positive men were able to have sex with other HIV-positive men without having to worry about conversations about HIV status or worrying about rejection or stigma is something that will be missed. These days there are only a small number of gatherings around the world that are held exclusively for HIV-positive men who have sex with men (MSM), where those who attend these events confirm they are HIV-positive prior to being admitted, then there are no further discussions about HIV status, which provides a relaxing environment for those in attendance.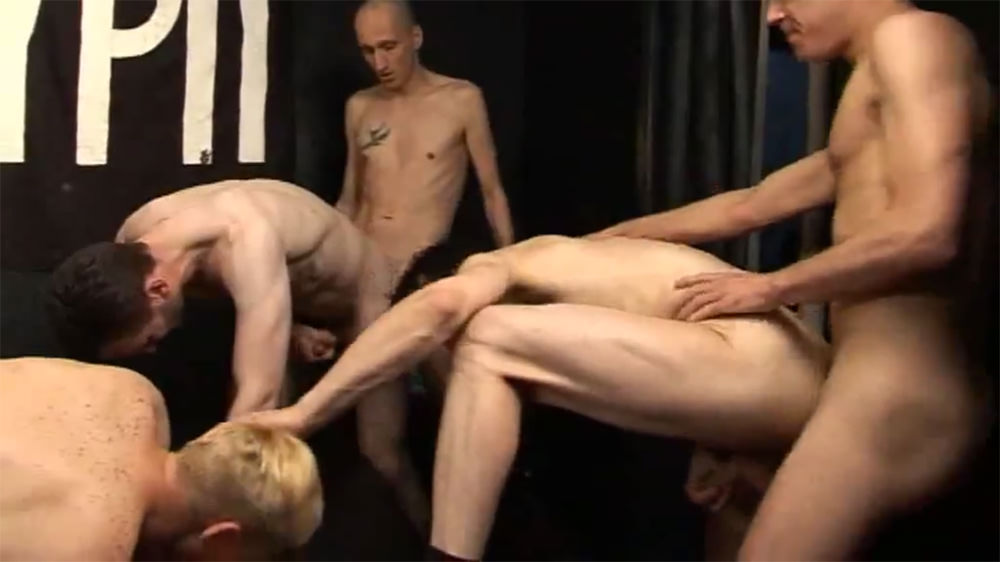 As you're watching London Cum Pigs, you can almost feel the sleazy environment these men were immersed in as they filmed these movies. The sights and sounds almost feel real, to the point where it's like you can appreciate the scent of sweat and sex that would have been permeating through the air as these guys fucked with wild abandon. Another great attribute of these films is seeing two men with biohazard tattoos, which sets off feelings of excitement as you watch them sliding inside unprotected holes, with the unknown HIV status issue providing an element of curiosity and wonder. If you are reading this article and wondering when PrEP became available in England, it was in 2021 and this movie was filmed in 2008.
London Cum Pigs 1 has an approximate running time of 1:41:02 and stars Barni Bonko, Carl Mackay, Ethan James, Jamie Bassett, Jamie Burns, John Daly, John Gadsby, Mark Powell, Max Load, Peter Reed and Tristan James. London Cum Pigs 2 has an approximate running time of 1:38:39 and stars Aaron Deutsch, Adrian Hole, Biker Top, Drew Marks, James Allen, Jamie Bassett, Kenric Wilson, Marcus Paulus, Randy Rob and Scott Dahma. Both movies are split into two scenes, which means you get to enjoy four segments from each of these two movies.
I found London Cum Pigs 2 to be the better of the two movies in this series, mainly because there was more cum being exchanged by the participants, plus the two men with biohazard tattoos. Even though I would love to detail some of the action that unfolds between these men, I don't want to reveal too much, as it would be more exciting for you to watch the movies and enjoy how everything happens yourself. One part I would like to mention is how hot it was seeing one of the guys swallowing the cum of the man he sucked off, then getting fucked by him again so any remaining cum gets fucked inside him. I have enjoyed watching these movies numerous times and there's some great highlights, and each time the action never disappoints as you see how much these men are enjoying sliding inside each other's raw holes!
---
London Cum Pigs 1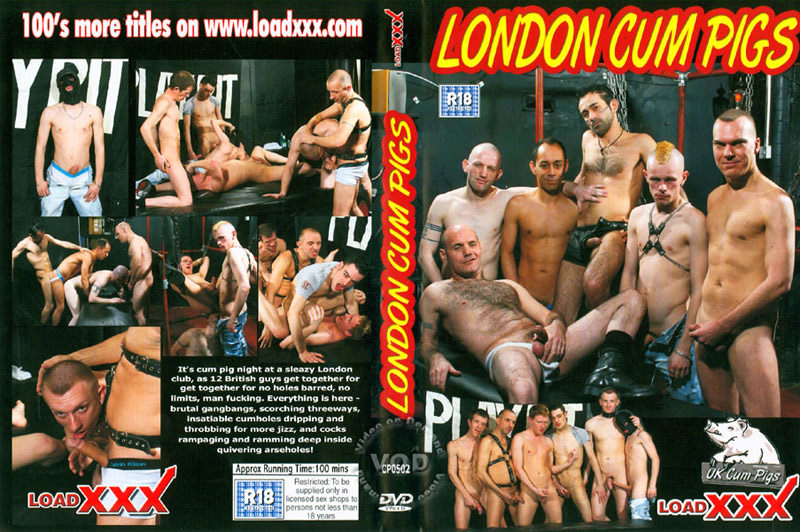 These British cum hungry pigs devour each other with a hunger rarely captured on film. In the opener of London Cum Pigs 1, the guys are enjoying a six man orgy. Throbbing cocks are like heat seeking missiles ready to launch into any willing hole that comes into its path. Fingers tickle juicy hoops and prep them for a meat filling and one piggy takes a deep dick spit roasting to encouragements of fucking his arse from the other pigs. When the cum starts to flow they lap it up like thirsty dogs and feed it to each other. In scene two, more arseholes are destroyed as hairy men and tattooed skinheads pound each other into oblivion. Meaty pricks are imbibed and slide past tight sphincters and deep into anal canals. One horny fucker positions himself in a sling and has his hole torn up with each deep thrust from his lover's hard cock. A hairy bear is skewered as he takes a rod of flesh in his arsehole and mouth at the same time and a daisy fuck has three little piggies squealing with pleasure. The guys fuck long and hard like real men until their sticky spunk is spewing from their shiny helmets. London Cum Pigs is two scenes of intense British man-on man action! – Official Marketing Material.
Scene 1: Jamie Bassett, Max Load, Jamie Burns, Peter Reed, Tristan James, John Gadsby
Scene 2: Ethan James, Carl MacKay, Barni Bonko, John Daly, Mark Powell
---
London Cum Pigs 2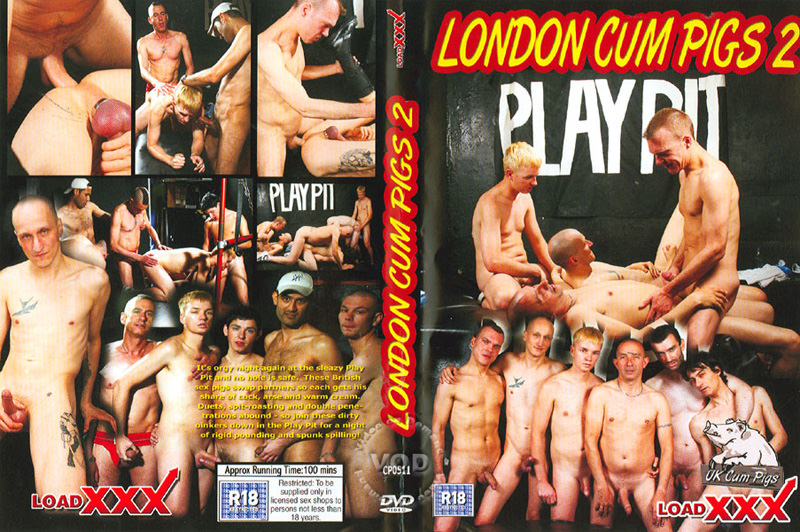 The UK Cum Pigs series takes you back to the dark recess of The Play Pit in London Cum Pigs 2, where no hole is safe from this group of lustful pigs. The dvd opens with a five-man orgy of deep throated blowjobs and arsehole probing. A duet soon develops which leaves the other three with no option but to partake in a fine spit-roasting three-way. These sex pigs swap partners so each gets his fair share of cock, arse and warm spunk. One young guy settles himself into a black sling which is suspended from red scaffolding poles. With his legs pushed back, his exposed button is entered by a young buck, who in turn, has his arse split by an older and more forceful pig! Next is a lustful six-man feast of kissing, gob jobs, rimming and hard, deep anal thrusting. Two lads are tagged by two slightly older porkers before the two groups break for a solid duet and a four-way on a padded table. The cameraman contorts to capture some superb close-ups as thick boners disappear into tight holes, with one young piglet getting double penetrated in his adorable arse. Join these dirty oinkers down in The Play Pit for a night of rigid pounding and spunk spilling! – Official Marketing Material.
Scene 1: James Allen, Kenric Wilson, Scott Dahma, Drew Marks, Biker Top
Scene 2: Aaron Deutsch, Jamie Bassett, Randy Rob, Adrian Hole, Marcus Paulus
---
There has been some great feedback about this movie based on comments at Xhamster, such as crownn, who stated "When raw dog bros are so fucking horny they can't even wait to fuck the boy in the sling, and just start fucking each other!!!" and hncuteboy who said "This goes straight to my all-time favourites. Admired the blonde bottom and the dark haired top twink in the first scene – and then wowed, when that cutie turned versatile getting fucked himself. Also like the sling fucking and fuck-trains.", not to mention rubberff who commented "Always a good session at Playpit, especially with hot young lads like these cumdumps and the Poz fucker needing to breed them." and rubberrat who stated "I remember the blonde boy – he was a regular at Playpit on a Thursday night. Hot for it all the time used to get fucked over and over." and a year later rubberrat added "Yeah – it was always hot and horny down there. The guy in the red jock with the hazard tatt was toxic as hell and put it about freely! Well before PReP was available."
After you check out these movies, leave a comment below to share your favourite part of the movie from the series and who you liked watching the most, along with any other details you would like to share. The links to the movies provided below are offered for your convenience and are not revenue generating links – so no commission will be derived from you clicking on them. It's almost impossible to buy these movies on DVD, so Video on Demand (VOD) is your only option for checking them out.
Watch London Cum Pigs 1
Watch London Cum Pigs 2
---
Featured Photo: © Load XXX Enterprises
Article ID: CC069
Version Control: 1.0 – October 12, 2023: Original article published.