In late 1998, partners Bill Gardner and John Singleton formed a gay porn company called Hot Desert Knights Productions and released "Bareback Buddies" as their first bareback sex video in February 1999, which won two awards from Bareback Jack. The studio produced many successful bareback videos over the years, amassing a total of 72 titles (including compilations and international imports), making the studio well-regarded by bareback porn fans, particularly for their filming style and model selection. Hot Desert Knights perfected the filming of cum shot climaxes, which they refer to as their trademark closeup asshole-cinemascope. The success of the studio also came down to their line up of relatable models; a stable of men who love fucking raw and aren't afraid to cum inside each other.
To be clear from the beginning, this article is not about bug chasing, it's about HIV status, as Bill and John have stated on their website and during an interview in 2006 that they disapprove of bug chasing. Hot Desert Knights made it a policy from day one that the studio would only feature HIV-positive models, which they maintained for 10 years, until their testing policy changed in 2008. As the studio had a no testing policy from 1998 to 2008, their models were assumed to be HIV-positive and everyone who performed was advised of this.

In an interview with Mark Gabrish Conlan published by Zenger's Newsmagazine on July 30, 2006, Bill and John shared insight into the early days of Hot Desert Knights and outlined some of their values. They revealed that in 1998, as a retired gay couple who relocated to Palm Springs from Delaware, they stumbled into bareback porn production and created a new market for condom-free gay sex videos. They also featured a range of models who were ordinarily attractive men, not buff guys who looked like porn models, which was a refreshing change for the gay porn industry and an attribute viewers quickly came to appreciate, as this created a more relatable connection between the viewers and the guys they were watching in the videos.
The porn production business came about after Bill and John started having bareback sex parties at their home in Palm Springs, California. The first party had about 15 guys in attendance and the second party doubled to 30 guests, with the third party increasing again to 60 partygoers. The number of guys who wanted to attend the bareback sex parties continued to grow rapidly, and it was after the second or third party that the porn production concept was born. As the guys were sitting around smoking and drinking beer after the party, someone said "You guys make videos, don't you? Why don't you make fuck videos? Why don't you make bareback videos?"
Bill had produced safety instruction videos previously as part of the company he owned and founded called C.T.T.S., which helped people in the trucking industry comply with government regulations, so he had a background in video production and because the men at the parties loved having bareback sex, the idea made perfect sense. At the time, Bill belonged to a number of internet groups, with one of them being OneList, which was taken over by Yahoo! and later became Yahoo! Groups, which was closed by the company on December 15, 2020. Bill sent out an email to the group members and offered to pay for transportation costs, hotels and meals and he received about 400 responses from all over the world. Bill and John selected a few men and filmed two videos on the same weekend, which were "Bareback Buddies" and "Bareback Raunch", and the studio released them a month apart.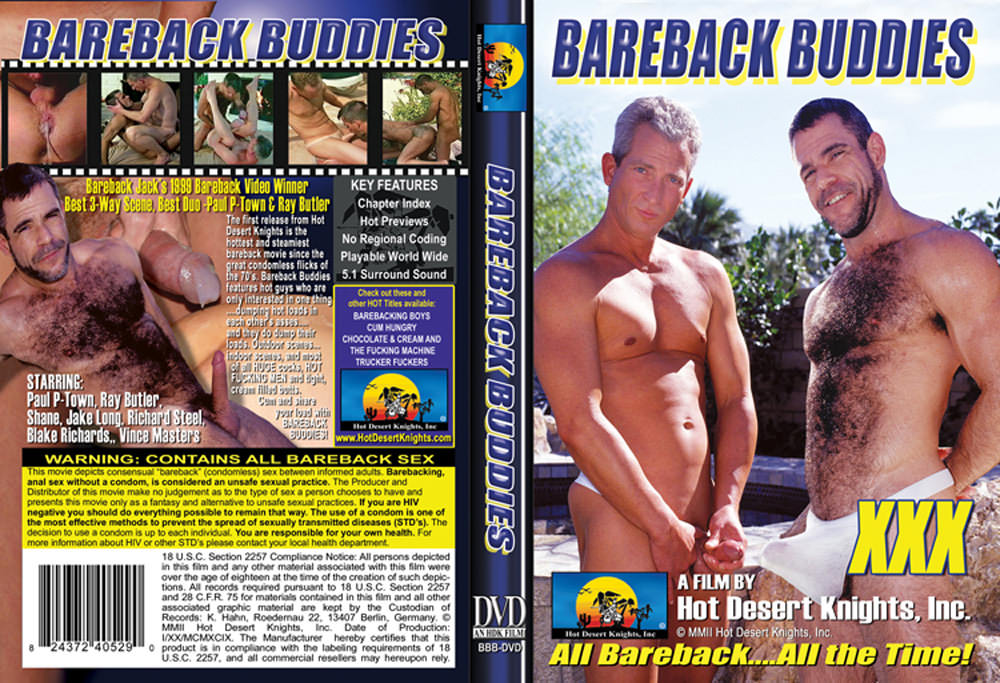 Bill and John ran an AIDS support group in Delaware with other volunteers, prior to producing bareback sex videos in California, which was a significant change in direction. Chad Adams was a model and Associate Editor at Hot Desert Knights and revealed during his interview with Rick Reed in "Tales from the Sexual Underground" that he also used to promote safer-sex to those who were still HIV-negative and he was also involved with fundraising for AIDS organisations in Arizona, where he held the title of "Queen of Safer Sex" prior to becoming involved with filming bareback sex videos with Hot Desert Knights. Chad admitted that he doesn't use condoms in his personal life, except if a partner requests the use of them upfront.
Chad shared with readers that he came onboard as a model in 1999 and the studio never asked him to disclose anything or ask him to perform bareback, as it was his personal choice, and it was the same for the other models too apparently. The studio did make Chad sign an informed consent to ensure he understood the risks involved with engaging in condom-free sex and he admitted there was no grey area. Chad also found the studio by sheer luck through barebackers.com, which was a bareback sex hookup website developed by the studio founders. The underground seediness attracted Chad to the studio, because he wanted to see raw sex unencumbered by barriers, which was something unique at the time when other gay porn studios continued using condoms as a result of the HIV/AIDS epidemic.
"We've also been cautious about how we make them (videos). We talk to the models quite a bit. We do get a lot of models who write to us and tell us that they're HIV-negative and they want to do a film where there's barebacking, and they want to become positive. Obviously, we aren't going to ever do that or use a person like that. The models all know that the other models in the videos are in fact HIV-positive. We've never advocated bareback films. We've simply said that adults have a right to participate in the type of sex that they want to participate in, as long as it's consensual and it's between adults. What we do say to people — and we say it in our films, we say it on the box covers of our films, we say it on our website, and in virtually every interview that we've ever had — is that if you are HIV-negative, you need to do everything that you possibly can to stay that way." – Bill Gardner and John Singleton.
Hot Desert Knights makes it very clear on their website that they are against bug chasing and gift giving, by addressing this directly on the Frequently Asked Questions page, where they state bug chasing and gift giving is "stupid" and knowingly wanting to become infected with HIV is "dumb". They elaborated further by saying to knowingly infect someone with HIV is "plain wrong" and "sick" and they do not allow gift giving or bug chasing on their set. They also pointed out that their stance relates to studio operations and what people do with their fully informed consenting sex partner in their private life is their business. These statements might sound judgemental, but it's also possible they were making such strong statements to protect their studio from a legal perspective.
While the studio may not have allowed bug chasing or gift giving on their set, a number of their models were former bug chasers, including Kenboy and Tim Tyler. The studio released Boys Club and Boys Club II with the slogan "Wanna join the club?" and they also reenacted Kenboy's conversion party with the release of "Birthday Fuck Party". When Bill was asked in Louise Hogarth's bug chasing documentary "The Gift" how he would feel if people convert at one of his sex parties, his response was that he would "probably feel real bad about it", but it's not something he's aware of. Even so, it's still something that could have happened, based on people approaching him who were HIV-negative and asking to become HIV-positive at one of the bareback sex parties.
There's a decent amount of information about barebacking and HIV outlined on the studio's Frequently Asked Questions page, including information about their models being HIV-positive. The studio states they tell every performer during their initial conversation they need to assume everyone who is in the film is HIV-positive and must consider this fact when deciding whether or not to be in one of their films. They also require each model to discuss with their scene partner their HIV status and decide what level of risk they are willing to take. If the studio assumes all models are HIV-positive, then these discussions may have involved viral load, medication and load swapping.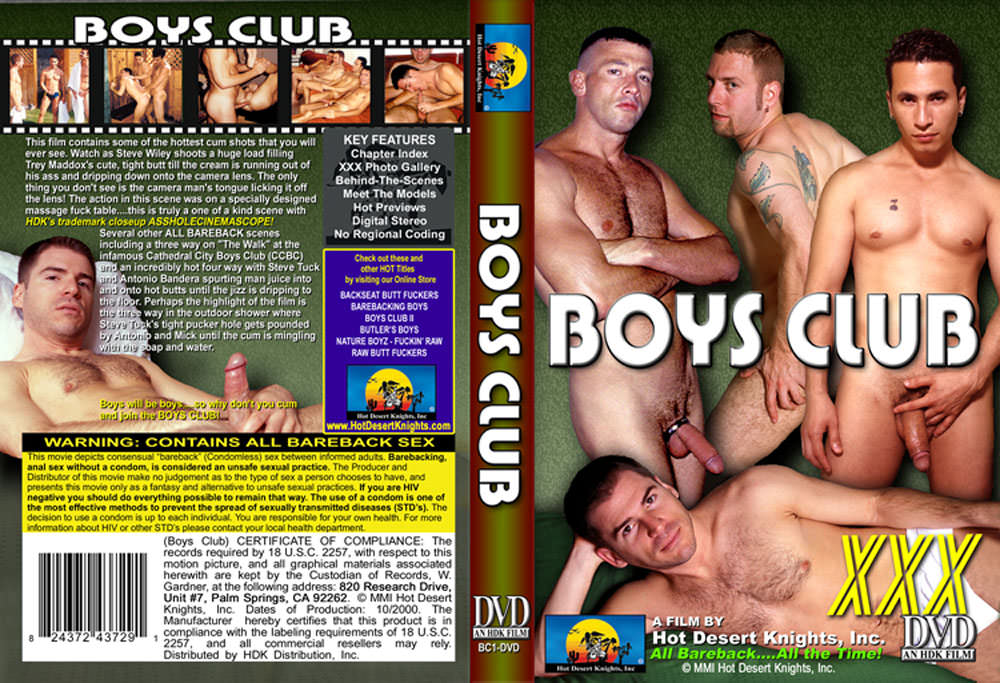 Hot Desert Knights selected a nice variety of guys to appear in their extensive number of bareback videos released over the years, but it was their Boys Club video that originally captured the essence of younger HIV-positive guys. Boys Club also showcased cum shots filmed beautifully, with cum even landing on the camera lens at one point, that's how close to the action the film crew were as they captured the action for our viewing pleasure! Boys Club was released by the studio in October 2000 and featured Antonio Bandana, Brandon Ironne, Kenboy, Trey Maddox, Dylan Ryder, Steve Tuck, Steve Wiley and Michael Lennox in 80 minutes of sizzling hardcore bareback action.
On February 7, 2008, Hot Desert Knights announced that the studio would begin testing models for HIV and other STD's including syphilis, gonorrhoea and hepatitis, effective immediately in conjunction with the Adult Industry Medical Healthcare Foundation (AIM). Prior to this, the studio operated for ten years having a policy where the studio assumed all models were HIV-positive. It was only two years after this policy that the studio stopped filming new scenes, following the death of Bill Gardner at age 62 following a battle with lung cancer, with Jarod Steel's Buckets of Cum appearing to be the last movie ever filmed by the studio. Hot Desert Knights is still operating under the care of HDK President Lee Watson, who has been in the role since 2010. Even though the studio no longer films new videos, their website is still active, so you can enjoy watching their sizzling selection of videos through the membership area or you can purchase DVD's from their online store at extremely competitive prices.
Further Reading:
---
Featured Photo: Scene from Boys Club – Hot Desert Knights Productions
Article ID: CC037
Version Control: 1.0 – April 30, 2022: Original article published.