"The Gift" is a documentary from 2003 written, directed and produced by award-winning independent filmmaker Louise Hogarth that explores deliberate HIV infection and primarily focuses on two former bug chasers Doug Hitzel and Kenboy. The film also includes interviews with a number of people, including Dr Greg Cason, gay psychologist and author Walt Odets, PhD, four long-term HIV-positive support workers (Jim, John, Chris and Arthur), a number of HIV-negative and HIV-positive men and several other people. The Gift premiered at the Berlin Film Festival and has screened in over 200 film festivals worldwide, winning numerous awards.
This bug chasing documentary was the first of its kind, with some of the discussions and emotional considerations raised in the film still relevant today. As it is approaching twenty years since "The Gift" first screened, it's important to consider the recent advances in health research and medication, along with changes to sexual behaviors. The filmmaker introduces us to the experiences of two bug chasers, who succeeded in becoming HIV-positive, but later took different paths in their lives during this hour long film that includes interviews with various people, stories from those who lost friends to the virus, along with various viewpoints and considerations.
The face of one of the bug chasers featured in the film may be familiar to viewers of bareback pornography. Former bareback porn performer Kenboy, who appeared in a number of bareback sex videos for Hot Desert Knights (HDK) Productions including "Boys Club 1", "Boys Club 2: Island House Adventure", "Birthday Fuck Party" and "Those Fucking Memories", along with his own movie releases "LA Sex House 1.5", "LA Sex House 2: The Pool Party" and "Bareback Studs: Escorts in LA", explains why he is a bug chaser and we learn more about his journey into the world of bug chasing throughout the film.
The co-founders of Hot Desert Knights are also featured in the documentary and provide insight into the early bareback sex parties, where everyone assumed that everyone in attendance was HIV-positive. Doug Hitzel is the other bug chaser featured in the film, who may not be well known at the beginning of the film, but he articulates his thoughts and experiences so clearly, that by the end of the film, you feel as though you understand his thoughts and actions and you might even be able to relate to some of the things he says. The following paragraphs discuss what happens throughout the film, along with some commentary, so you are welcome to read on, or scroll to the bottom of the page if you would like to watch the full-length documentary via YouTube.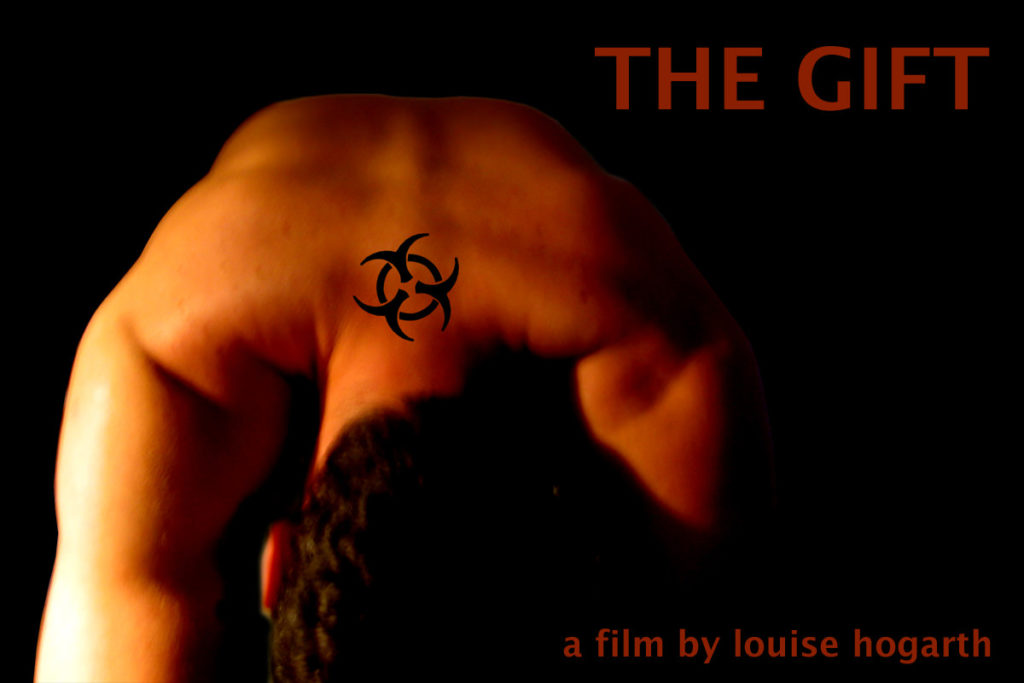 The documentary begins with scenes filmed in the Castro District of San Francisco, where we are first introduced to nineteen (19) year old Doug, as he casually walks across the street. Doug moved to San Francisco from Nebraska and the first time we hear him speak is via a "Diary Cam", where he talks about how he thought being positive was going to be a positive thing. Doug believed if he was HIV-positive, it would mean he could have "a lot of promiscuous unsafe sex", but he soon shakes his head and becomes upset when he admits everything changed so fast for him. Doug reveals "the gift pulls you in like a magnet", because "it's like the biggest box with the best bow and the best ribbon, but after you open it up, it's like a ball of nothing and it sucks all the life from you."
Kenboy's opening words in the film are "give me the gift so I don't have to worry about it no more." We hear from a HIV-positive guy who admits it would definitely not be a gift to get HIV and it would be a gift if he didn't have it. An older gentleman adds that some people feel the need to have HIV because they feel it will make them part of an "in crowd", but he's quick to add he has no desire to give the virus to anybody. At the Golden State Gay Rodeo Association event being held in California, another HIV-positive guy shares his disgust for the bareback parties that are going on, before his friend adds that barebacking is like the silent killer, because nobody talks about it.
Kenboy admits that nobody asks him whether he is positive or not because he believes no-one cares. A couple of drag queens estimate that about 80% to 90% of their friends bareback. Bill Gardner, co-founder of Hot Desert Knights Productions says he started bareback parties in 2000, a detail confirmed by Bill's partner John Singleton. Bill adds that all the guys who attend their parties are HIV-positive. Dr Cason believes that HIV is something that used to be very negative, but it's now something that defines guys, where it makes them different and allows them to participate in forms of sex they could otherwise not participate in for fear of getting the virus.
Bill says that the bareback sex parties started with 15 guys and after being scheduled every month, the number of attendees grew rapidly, with their latest party having 167 guys in attendance, with 50 or 60 guys turned down, because there wasn't enough space for everyone to be accommodated. Bill states that the guys who attend these bareback parties range from 21 up to 70 years of age, in an environment where Bill and John create a safe space for the guys to do what they want to do. Bill even admits that some of the guys from local AIDS organisations come along to the parties and they're not using condoms either.
A number of people on Castro Street are asked about an HIV awareness billboard in the neighbourhood, with one young man saying he had an 18 year old friend who was just out of high school, and contracted HIV the very first time he had sex, which was unprotected. His friend got it from someone he loved, adding that his friend died during the past year because the virus spread through him like a grassfire. Some of the guys interviewed admit to barebacking and others state they strictly use condoms. The issue of guys not wanting to discuss HIV-status or those who lied about HIV status are also part of the conversation.
A group of HIV-positive guys from a support group all who have heart conditions due to the HIV medications they were taking at the time, are sitting around with Jim saying a 24 year old friend of his called him in tears because he had just tested positive. He states he was compassionate on the phone with him, but after he hung up he referred to him as being a "dumb ass". The men share some stories, with Jim stating it's stupid for people to be testing positive these days with everything out there, because there's no reason for it, but then he gives a number of reasons why it's happening. The guys cover various issues during several segments in the film, from safer sex campaigns which they believe aren't working and they also discuss their health concerns.
Doug points out that people who wanted to use condoms were stigmatised because so many people were barebacking and bareback sex was considered to be the norm. Doug adds that after his year of being sexed out in San Francisco, the pressure was not about having safe sex, the focus was on asking about the type of lubricant someone was using, with the quality of the lubricant being more important than discussing HIV status. Doug says he was seen by other guys in the city as the cute and fun 19 year old guy who has unsafe sex and he felt like he was able to finally fit into the gay community.
Kenboy moved from Illinois to Los Angeles after replying to an ad about a sex house and he was the first one to move in and a few weeks later another guy moved in. That's when the guys started throwing parties, which got bigger and bigger. LA Sex House (lasexhouse.com) was reportedly 99% bareback, with Kenboy estimating the house had over 20,000 visitors during its existence, with about 8 parties a month, where the policy about HIV status was don't ask, don't tell, with a sign at the door saying guests needed to assume that everybody there was HIV-positive. Later in the film, Kenboy reveals that he was HIV-negative when he moved into the sex house and he still remained negative a couple of months later, which disappointed him and that is when he decided to throw a conversion party to become HIV-positive.
After having bareback sex with guys in the city, Doug started thinking about having unprotected sex with HIV-positive guys, because as a barebacker, once he started looking at how many positive guys were in San Francisco, he felt like he had struck a pot of gold. It's at this point when Doug came across the idea of bug chasing. He met a guy who was HIV-positive and when Doug told the guy that he couldn't cum inside him, the guy told him that he wanted to cum inside him, because he wanted to "charge him up", even though Doug admits that he didn't know what this meant at the time.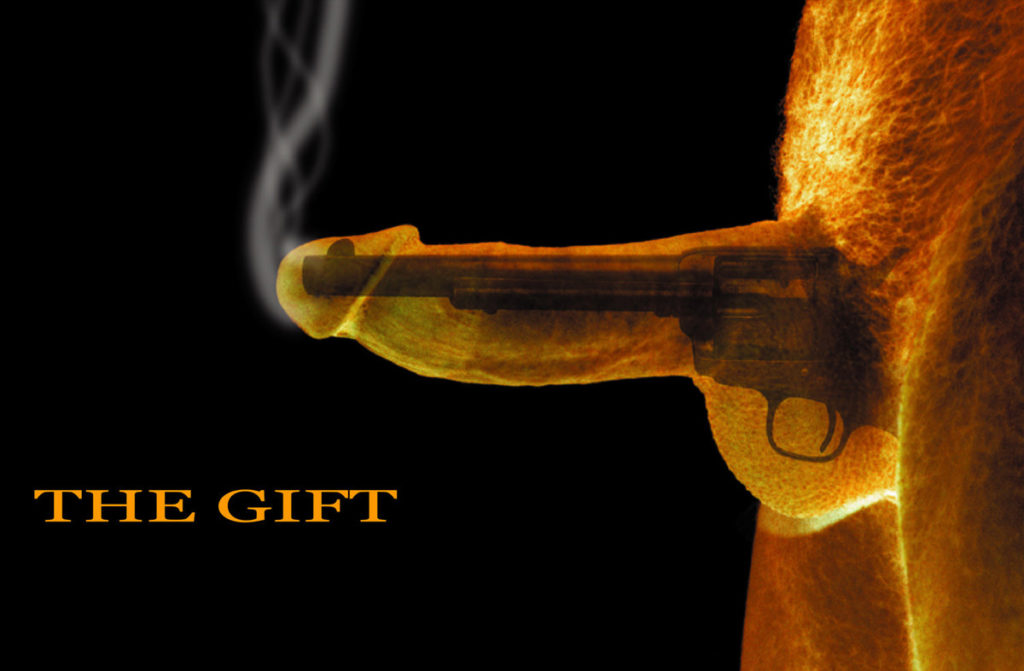 Walt discusses conflicts between two groups of people, with the group of HIV-negative guys told to never be like the HIV-positive guys, which made the HIV-positive guys feel like there's something wrong with them. The explicit safer sex messages were telling HIV-negative guys not to get infected, but these powerful messages were also being read by HIV-positive guys, which created alienation, with the end result being different HIV statuses dividing communities and relationships.
Kenboy wanted to become HIV-positive so he no longer had to worry about contracting HIV, adding that if you're going to bareback, you're going to get it anyway, so you might as well have fun. PrEP has now changed this outlook and offers an excellent level of protection against HIV for those who still want to have bareback sex. Kenboy posted an ad for a conversion party on Bareback Jack (barebackjack.com) that read "bug chaser looking for 10 – 15 guys to convert me" and he says about that number of really hot guys replied to it. "Only positive people are allowed at my party dude" Kenboy says, and added "give me their poz loads and leave and hopefully give me the gift so I don't have to worry about HIV anymore." Kenboy reveals that he hates condoms and adds that he's a bug chaser who is not afraid of AIDS.
After Kenboy's conversion, he planned a bareback sex party reenactment to celebrate his 28th birthday in Palm Springs and on Saturday, August 4 there were about 100 guys there. Kenboy's bareback party was filmed by Hot Desert Knights Productions and was released under the title "Birthday Fuck Party". Flashing back to the gay rodeo, an HIV-positive guy disagrees with HIV-positive guys having unprotected sex with other HIV-positive guys, because he knew of three guys who were HIV-positive and they had sex with each other and two of them died because their different strains combined and it killed them, which is a different opinion offered by Bill and the guys who attended his monthly bareback sex parties.
Doug reveals that he chatted with about 50 to 60 bug chasers online, with about 15,000 to 20,000 members on bug chasing groups and points out that tattoos are a big part of being HIV-positive, with guys attending conversion parties sometimes having "HIV-" tattoos, with those guys looking for guys who have "HIV+" tattoos. Doug adds that after the HIV-negative guys convert, they then get their tattoos amended by putting a vertical line through the minus symbol, which changes it to a plus symbol to become "HIV+" and represents now being HIV-positive. Doug also talks about biohazard tattoos as being a way for guys to show that they are HIV-positive without having to talk about it.
Kenboy was diagnosed with HIV in March 2000 at age 26 and says he feels relieved to have contracted HIV, because he no longer has to worry about it and is happy with his positive status, saying he can finally breath again. Kenboy reveals he doesn't know any HIV-positive guys who are on medication and says they don't discuss HIV because they don't care and don't want to waste time talking about it. Doug feels differently though, saying that whenever he looks in the mirror, he hears a little voice in the back of his head saying "Happy now?", which repeats and he's not happy about being HIV-positive, admitting that he has made a terrible mistake and there's no fixing it now.
Doug says he gets along with his family, in particular his mother and it breaks his heart to leave them earlier than he needed to. Towards the end of the video, Doug cries, saying he's on medication and it's so hard. A year later the film revisits a number of the guys, with Kenboy then at the point of owning an internet website called Bareback City (barebackcity.com), which is now defunct, but was devoted to bareback sex and conversion parties. The four guys from the support group continue to experience health problems, with three out of four of them on disability and Doug returned to college.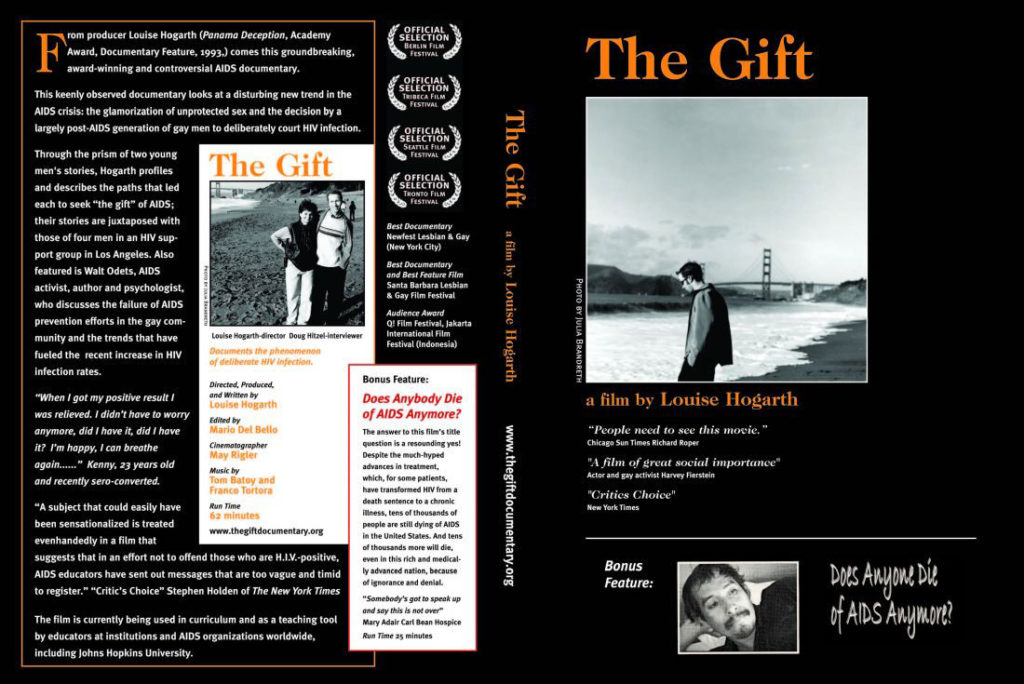 The end of the film features the Golden State Gay Rodeo Association riderless horse event, which is extremely powerful and I will say no more about it, as this needs to be seen so it can be personally experienced. This documentary provides an excellent insight into history, the lives of gay men in general, and incorporates interviews with others that provide a deep level of insight and experiences about both bug chasing and being HIV-positive. The Gift can be streamed from YouTube or if you would like to purchase a copy of the DVD to support the work of Louise and her non-profit organization, you can purchase the DVD from the Dream Out Loud Productions website.
The conclusion viewers will likely reach from watching the documentary is a different viewpoint between the two bug chasers after they became HIV-positive. Kenboy embraced being a bug chaser and seemed to be happy with his decision, but Doug was clearly upset by the outcome and regretted becoming infected with the virus. Kenboy died on August 22, 2017 aged 44, and Doug died on September 26, 2017 aged 35, just over a month apart from each other. It appears Doug became religious later in his life and was baptised in 2007. If you read Doug's obituary, you will notice the inclusion of this sentence that was most likely unintentional "Lord God we all are thankful for the gift provided to this man, that we might all be better by what he poured out as a conduit from You into us all."
"At the dawn of the new millennium, as United States HIV infection rates began to climb after a few years of decline, Rolling Stone and other publications reported on the story of so-called "bug-chasers": gay and bisexual men who set out to deliberately contract the AIDS virus. This hour-long documentary explores the bug-chaser phenomenon through interviews with two newly HIV-positive young men. Subject Doug Hitzel gets the most screen time as he describes his quest for acceptance and love in San Francisco's gay community and his resulting HIV infection. Sex worker "Kenboy," a web entrepreneur and self-avowed bug-chaser, also tells his story. Director Louise Hogarth intercuts their stories with commentary from a support group of long-term HIV survivors who mourn the poor choices of the younger generation. Hogarth also interviews healthcare and social services workers and various attendees of a gay rodeo for their perspectives on HIV prevention and education." – The Gift, an introduction extracted from the Dream Out Loud Productions website.
In Memoriam:
RIP Kenboy – August 7, 1973 – August 22, 2017 (aged 44)
RIP Doug Hitzel – January 10, 1982 – September 26, 2017 (aged 35)
External Links:
References:
---
Featured Photo: Louise Hogarth / Dream Out Loud Productions.
Article ID: CC005
Version Control: 1.0 – September 24, 2021: Original article published.