The Gift Giver is a 20 minute film that was written, directed and produced by filmmaker Gareth Askew in 2014. The tagline for the film is "Three Letters. Two Guys. One Gift." The 3-2-1 countdown starts with the three letters representing HIV. Out of the two guys involved, one is a gift giver, but the other is not a bug chaser like you might think, he is a victim of stealthing. The film's opening sequence involves Edward Carter, who is a virgin getting ready for his date with Jeremy, who is HIV-positive, which is something Edward was unaware of at the time. Perhaps Jeremy's status wouldn't have bothered Edward had he been upfront about it, but what happened during their encounter will impact the rest of Edward's life.
Jeremy seemed determined to transmit the virus to another person and his victim in this case was Edward. Sex may not have even been a consideration for Edward on their date, and he didn't even know he had sex with Jeremy, due to Jeremy using a roofie to get what he wanted. Ben is another character in the film who could see what was happening from a distance and he tried to warn Edward about Jeremy beforehand, but his warnings weren't heeded, which led to Jeremy getting what he wanted and Edward getting something he didn't want. It's clear that Ben is concerned about Jeremy's intentions, which indicates that Edward may not have been Jeremy's first victim or he may have romantic feelings for him.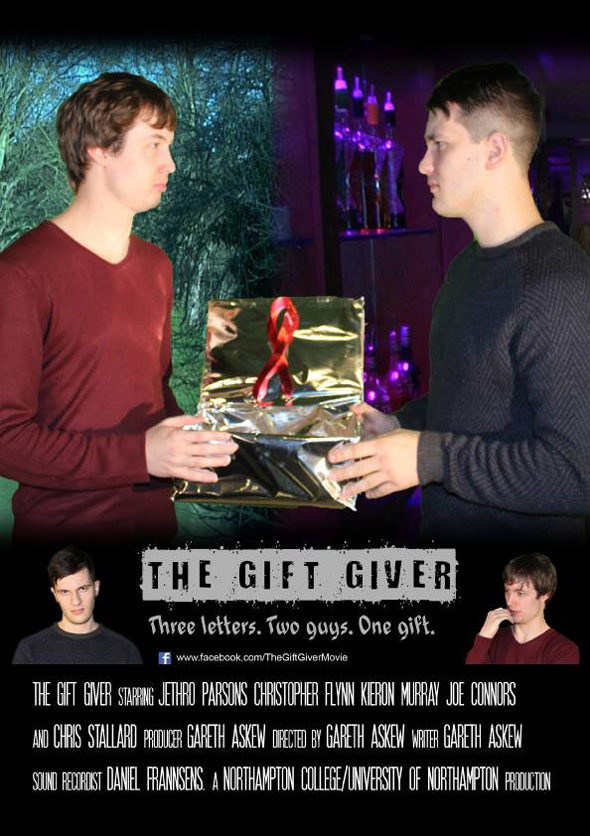 This film was produced in 2014 and was filmed in various parts of Northampton in the United Kingdom. This short film might appear to have been based on the real-life events of British hairdresser Daryll Rowe, who was convicted in 2018 and given a life sentence for using HIV as a weapon after intentionally infecting 5 men with HIV and attempting to give 5 other men the virus between October 2015 and December 2016, but the film was actually released before Daryll started offending, which is an eerie coincidence. Daryll Rowe was confirmed to be fully aware of his HIV status in April 2015, yet he refused treatment and went on a campaign to find other men to infect with the virus. Daryll was the first person in the United Kingdom to be convicted for deliberately spreading the virus, by insisting on having unprotected sex with his victims or he would intentionally damage the condoms of the men who refused to have unprotected sex with him.
Even though this film was produced prior to Daryll Rowe offending in a similar way the character offended in this film, the short film provides some insight into the emotional process for the victim, which is something that would impact anyone in this situation for the rest of their life. I found this short film intriguing and I did like the dimly lit environment with a beautiful hue of purple lighting when the victim was being seduced by the offender, because the darkness gives the film a touch of realism, as it equally does when fluorescent tube lighting is used for the clinical scenes. I'm not sure whether these lighting elements were intentional or not, but I did notice them and thought they added something special to the film either way.
I took note that Dr McIntyre completed Edward's bloodwork without using safety gloves, unless gloves aren't used for these kinds of procedures in the United Kingdom where this film was produced. I know I have always been handled with gloves by healthcare professionals in a similar healthcare setting. Gareth revealed that he produced this film as part of his studies at the University of Northampton and I thought his choice of subject matter was interesting and I also liked some of the dialogue about creating a new life through the virus, along with the celebration involving a bottle of champagne and flutes, which is language often used by bug chasers and gift givers.
The film also importantly pointed out that Post-Exposure Prophylaxis (PEP) is only useful up to 72 hours of potential infection. Although this film only has a running time of 20 minutes, it covered a lot of emotions and drama, provided useful information (although some of it is not completely accurate) and it also helps people understand the perspective of someone who might find themselves in the predicament that Edward found himself in. I also wanted to add that it's not currently possible to detect HIV in 6 days due to the window period, but advancements in technology may change this at some point. This film was produced in 2014 and although PrEP became available in 2012 in the United States, it was not made available in the United Kingdom until 2021, after trials began in 2020.
Gareth revealed that he left the ending of the film open, because he intends to make a feature-length film of The Gift Giver, where the characters get the chance to be together if they can get past the rape and HIV infection issues, which would be a lot of emotional work to overcome. Gareth also added that this film is based on a true story and that the character Edward is loosely based on himself, so it's unknown whether what happened to Edward in the film actually happened to Gareth in real life, which remains part of the mystery. Gareth stated that the full-length feature film has now been completely written and he's polishing the script before he takes it to the production stage, so stay tuned to see where this story goes in the future and in the meantime, enjoy watching The Gift Giver below.
---
Featured Photo: Gareth Askew.
Article ID: CC051
Version Control: 1.0 – October 23, 2022: Original article published.