Launched in 1999, Urban Dictionary is a website that is powered by its users, which is echoed by its current slogan "Urban Dictionary is written by you." It's a pretty smart concept, because the website provides the infrastructure, with contributors (or users) doing all the work to provide the content. The website is funded through purchases of mugs, hats, t-shirts and sweatshirts containing definitions and meanings and users can create the own definitions added to the merchandise. Many of the definitions were created a number of years ago and have become outdated, so it's time for some of these definitions to be given an update.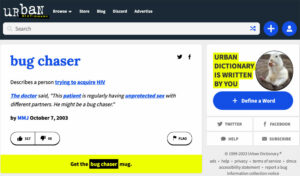 Urban Dictionary was originally designed as a parody of Dictionary.com, but quickly became popular with those who could look up slang and other words to help them understand meanings better and there's actually some funny definitions found as you explore the pages. As the website features a collaboration of various sources and opinions, based on contributors thoughts on different meanings, visitors to the website will discover a lot of variation. The website allows opinions and due to the lack of editorial review and moderation, a lot of contributions could be considered unreliable, due to the inaccuracies that have been published on the website. There is the option to report concerning contributions, but if you see some of the contributions that currently exist, it does make you question how serious any reports are taken, as the website is designed to be tongue-in-cheek.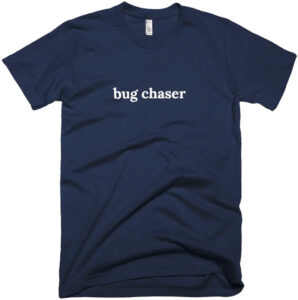 If you browse through the pages of Urban Dictionary looking for definitions for bug chaser, bug chasing, gift giver, gift giving and other poz-centric terms, you will find some interesting definitions that have been created by users of the website. Urban Dictionary asks users to create a definition, then provide a sentence that creates an example of the definition to provide a better understanding of the meaning and to put the definition into context. You will find some fun and even weird stuff at Urban Dictionary, with plenty of ignorant and incorrect meanings as well, which is why we should include some useful definitions to help other users of the website with more accurate terminology understand topics and issues we can relate to. We might not be able to erase some of the incorrect or even inappropriate contributions, but we can still add some value to a selected number of definitions by coming up with some ideas here.
This is an article that asks you to share your creativity by coming up with your own definitions and to get things started, I have taken a look through some of the definitions at Urban Dictionary that have been created by other users and I have shared one example from each term as a reference point to help make each definition better. It's important to remember that anyone can submit their own definitions at Urban Dictionary (including us), with some of the definitions based on ignorance, whether accidental or intentional, which is why it would be great for us to create our own definitions coming from those who resonate closely with them. We can still make our definitions fun, to keep them inline with the spirit of the concept of the original idea, but at the same time, we can make the definitions more helpful for those who might stumble across the website looking for meanings of particular terms.
---
Bug Chaser
---
Gift Giver
---
HIV
---
HIV-Positive
---
Pozzed
---
Poz
---
Poz Loads
---
Poz My Neg Hole
---
Poz Party
---
There's some pretty interesting definitions featured at Urban Dictionary and I only chose one example from each category, which is the one I figured was the best definition from those submitted (so as you can probably imagine based on these selections, some of the definitions there were quite bad). As you will soon discover, there's some inaccuracies (quite a lot actually) and a lot of work is needed to provide better definitions. Urban Dictionary does include a lot of tongue-in-cheek definitions, but we can still add value to the definitions there, so those who are researching topics that are important to us can receive useful information that can lead them to other resources.
If you would like to contribute definitions and examples to some or all of these topics, please leave the details in your comments below. After we receive a good number of comments, we can choose the one we feel is the best and then submit our own definitions and sentences to Urban Dictionary using a blend of responses, or you can submit your own responses directly if you want to, because the more contributions they receive, the better quality the definitions will become.
---
Featured Photo: Image by efes from Pixabay.
Article ID: CC067
Version Control: 1.0 – August 20, 2023: Original article published.