San Francisco based bareback porn studio Treasure Island Media released a movie in 2014 that tackled an issue many people are afraid to address in the gay porn industry. The studio filmed a raw gay sex movie featuring a mix of HIV-positive and HIV-negative men in the same scene and named the movie after a term that describes HIV infected bodily fluids. It's extremely rare for a commercial gay porn studio to address HIV so openly in one of their movies, which is why Viral Loads is considered to be such a groundbreaking piece of pornography. The studio does not identify which men are HIV-positive or HIV-negative, but PrEP was available at the time this movie was produced, so it's possible that the HIV-negative guys were taking PrEP, although it's also possible they were not.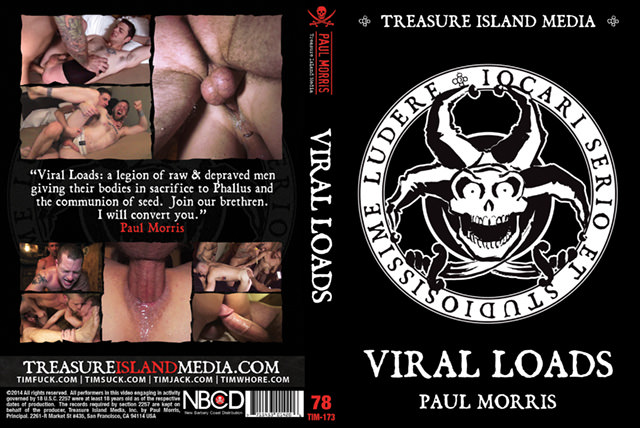 The movie features Alan Gregory, Anthony Bartkus, Austin Shadow, Blue Bailey, Brad McGuire, Corey Bengal, Dayton O'Connor, DJ, Drake Corrigan, Drew Sebastian, Element Eclipse, Jack Hammer, Jaxon Jones, Leon Fox, Logan Stevens, Nicky Norway, Noah Paris, Pete Summers, Rad Matthews and Steven Richards. Blue is the centre of attention in the first three scenes, but it's his appearance in the third scene "Blue's Man-worshiping Gangbang" that really brings this film and the focus of HIV-positive cum to life. It's the scene involving the jar containing more than 200 poz loads that gets poured inside Blue's asshole. The studio revealed most of the men in this scene are poz, but some are neg, although the studio never identifies who is neg and who is poz. Blue Bailey has previously stated publicly that he is HIV-positive and was already infected with the virus at the time this movie was filmed.
MADMAN PAUL MORRIS INFECTS THE WORLD WITH LATEST RELEASE, VIRAL LOADS
San Francisco, CA — March 26, 2014 — VIRAL LOADS, the latest release by Paul Morris. "Mansex is a wilderness," stated Paul Morris, TIM founder and resident crazed visionary. "Do-gooders and milquetoasts are always trying to tame it, make it safe. Fuck them! I stand for wildness—boners, bugs and all." VIRAL LOADS is over two hours of boundary-busting sex madness. From a jar brimming with poz jizz squirted up Blue Bailey's bung to a one-legged amputee riding Drew Sebastian's phallic "third leg", VIRAL LOADS is an infectious experience that captures the gutter-life, the sex-madness, the pure ecstatic oblivion that Paul Morris devotees live for. – Official Media Release for Viral Loads – Treasure Island Media.
Viral Loads features some of the studio's most popular men and the names of the scenes emphasise the gritty bareback sex you can expect to see as you watch this movie, such as "Adult Bookstore Basement Fuck", "Blue's Gloryhole Dessert", "Quick Roadside Fuck", "Pure Trash" and "Cheap Motel, Sleazy Fuck". Paul included a bonus scene at the end "Gold From the Vault" to give viewers as much raw fun as they could possibly devour. You will find something interesting just before the last part of the movie (I'll keep that a surprise in case you haven't seen this movie yet), then at the very end there's a cum shot review, so you can revisit each of the sticky moments that took place throughout the movie.
This movie certainly catches the attention of bug chasers, from the bold title, to the wording used to describe the movie, with words such as "infects the world", "bugs and all", "poz jizz", "infectious experience", not to mention the wording that's emblazoned on the back of the DVD cover "Viral Loads: a legion of raw and depraved men giving their bodies in sacrifice to Phallus and the communion of seed. Join our brethren. I will convert you. – Paul Morris". Flip over the DVD cover and you'll notice a biohazard symbol merged with the Treasure Island Media logo, as they combine to become one.
In 2014, Paul Morris spoke with Toby McCasker in an interview at Vice, where he stated that it's time for gay men to stop obsessing over HIV. Paul added that the most offensive reaction he received after releasing this movie is from people who say he doesn't understand the suffering and what was lost due to HIV, and added "the vast majority of my acquaintances and friends and lovers died." Paul continued by saying he is deeply touched by what happened and he believes in the necessity of remembering what it is that they and he explored and not forgetting it. Several years ago Paul stated that all gay men are HIV-positive, adding "every gay man alive today is defined as much by the viral load narrative as by any external homophobia."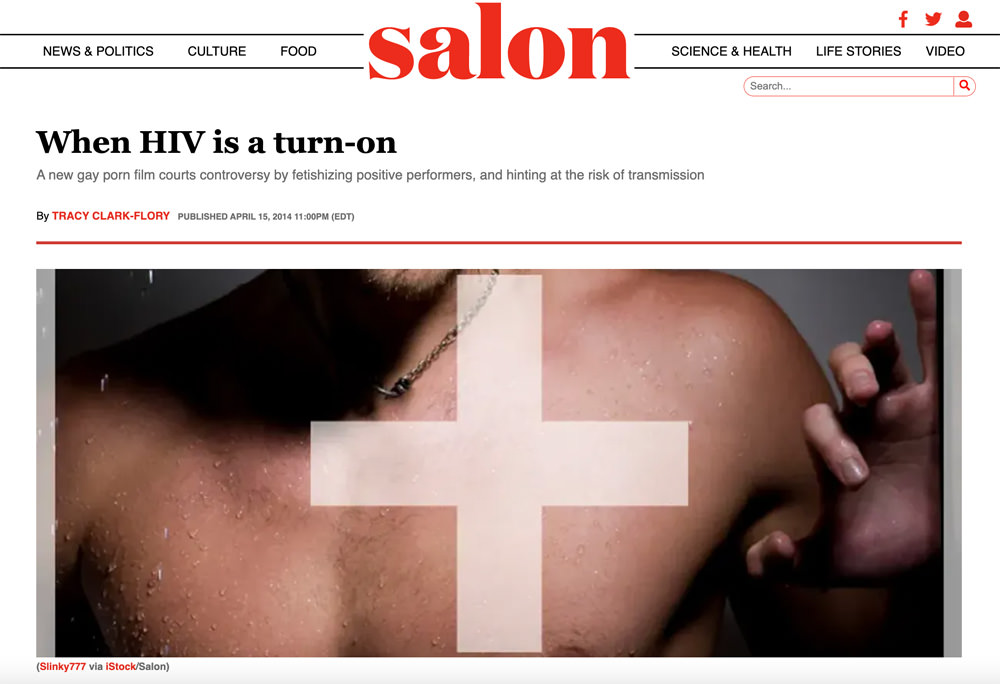 In the same year, Tracy Clark-Flory wrote a piece for Salon where she interviewed Blue Bailey. Tracy also included a couple of quotes in her article from bloggers Mike South who said "And you thought straight porn was bad." and Zachary Sire from Str8UpGayPorn said "Treasure Island Media isn't really a gay pornography studio anymore, is it? Now, their business model is 100% focused on spreading infectious diseases." Blue Bailey has always been very open about his HIV-positive status and made a point of mentioning this in his interview, where he said "I requested to be in the video. The jar of cum was their idea but, to me, that wasn't imposing any risk to my health because I'm HIV-positive and a jar of cum wasn't going to change that or affect my health in any way." Blue confirmed during the interview that he got tested before his participation in this movie and again afterward.
What I found interesting when I read what Blue had to say about his involvement in the movie is he had no judgement about anyone who might enjoy watching this movie, which is refreshing and it also confirms what Paul Morris said in his Vice interview about the movie not being for everybody, it's only for those who understand what it's about. Blue had some fantastic insights when he was asked what he would say to people who thought the movie was fetishising HIV and this was his response: "It could be made for an audience that is already seeking that out and that may already be HIV-positive and that's just part of how they have sex in their life. Another aspect could be somebody who is HIV-negative and would like to fantasize about this and jerk off to it, but not necessarily participate in it. That's a way for them to fulfill the fantasy without actually participating in risky behavior." Blue handled his interview beautifully and I found his responses to be open-minded and insightful.
If you would like to delve further into Viral Loads from a scholastic point of view, you might be interested in reading the paper from Gabriel Ojeda-Sague from the University of Pennsylvania titled 'Plague Desires: A Re-Reading of HIV/AIDS Politics in Contemporary Gay Pornography', which was part of the 2015-2016 Penn Humanities Forum on Sex. Here is the abstract for the paper: "This project will study the methods by which contemporary gay pornography has confronted and attempted to radically reconfigure the narratives, politics, and erotics of AIDS/HIV. Focusing especially on the film Viral Loads by Treasure Island Media and the controversy that surrounded its release, characterized by articles on the film from VICE and Salon, this project will argue for the ability of the film to produce a re-reading of major stigma against viral bodies and the condition of sickness within eroticism through the form of pornography and erotic spectatorship. This project will argue that the hyperexposition of the viral gay male body in sexuality offers a healing mechanism against the fear, marginalization, and pathologization that come with stigma towards AIDS/HIV."
I applaud Paul Morris for producing this movie, because it is one that has sparked conversation about HIV. The virus has now been around for forty years and the early days were tragic, but we are now in a position where we can choose to avoid the virus or we can live with the virus. Some gay men have feared having sex due to the virus and this has taken away part of our identity, but sex is something we should be embracing and be proud to be a part of, yet we are constantly reminded by society that being gay is bad and this has flow on effects that can lead to mental health issues. Paul Morris created this movie because he wanted us to embrace who we are and live our lives naturally and not be afraid by what happened in the past. We are who we are and we cannot change the past or who we are today, even if we try to, so be yourself, love who you are and live your best life.
Further Reading:
---
Featured Photo: Viral Loads / Treasure Island Media.
Article ID: CC028
Version Control: 1.0 – February 15, 2022: Original article published.